Link to slide to bottom
ARLINGTON NATIONAL CEMETERY
Explore the Rich History from the Comfort of our Tour Vehicles
Arlington National Cemetery is an enduring tribute to those who've dedicated their lives to defending the ideals of our nation. A visit here will leave an indelible impression on your spirit.
There are more than 639 acres of hallowed ground and they're best explored aboard Arlington National Cemetery Tours.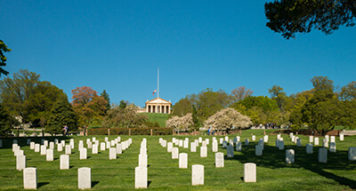 Tour Information
Tours depart from Welcome Center: 8:30am - 4:00pm.
Open 363 days a year. Wreaths Across America: December 15, 2023: Tours from 8:30am to 12pm. Closed: December 16, 2023.
Special Operating hours:
Memorial Day and  Veterans Day: Tours begin at 2:00pm.
Tour Hours:

8:30am - 4:00pm

Cemetery Hours:

8:00am - 5:00pm
Aboard the continuous 45 minute loop, you'll have the opportunity to disembark and explore.

There are 6 stops on weekdays and 9 on weekends.

Relax on our comfortable tour vehicles as you journey through history.

Learn about the cemetery's history, the heroes who rest there, and other stories from your knowledgeable guide.

You'll be transported to notable graves and memorials.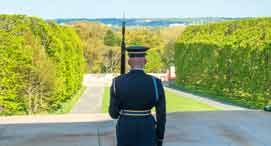 CHANGING OF THE GUARD
October 1 - March 31 The guard is changed every hour on the hour.
April 1 - September 30 The guard is changed every half hour.
TOUR STOPS
Tours depart from The Welcome Center
WELCOME
CENTER

President
John F.
Kennedy
Gravesite

General John
J Pershing Gravesite

Memorial Amphitheater & Tomb of the Unknown Soldier

Arlington House

ORD & WEITZEL
GATE
(IWO JIMA
MEMORIAL)
Additional Stops
(Weekends Only)
SECTIONS
55 & 59

COLUMBARIUM
COURTS
& NICHE WALL

PENTAGON GROUP
BURIAL MARKER

Handicap Accessible
Handicap accessible vehicles and assisted listening devices available upon request. Handicapped plus one guest ride free with valid government issued ID.
Tour Languages
All of our tours are in English.