Getting Here
Arlington National Cemetery is located on a parcel of land that once belonged to George Washington's step-grandson, George Washington Parke Custis. In 1857, Custis left the property to his daughter Mary Anna Randolph Custis and it became the family home for her and her husband, Robert E. Lee.
After the Lee family vacated the property at the onset of the Civil War in 1861, the grounds were used for various purposes, including serving as a camp and headquarters for Federal Troops during the Civil War and later providing a safe haven for former slaves seeking freedom.
Arlington National Cemetery held its first military burial on May 13, 1864. Today, the property is the final resting place for more than 400,000 active duty service members, veterans and their families. It is a place to remember the men and women who served their nations and where all who visit can gain a sense of their sacrifice.
Arlington from DC
Arlington National Cemetery is located across the Potomac River from Washington, D.C. at the end of Memorial Avenue, the parkway which extends from Memorial Bridge, near the Lincoln Memorial. Along this parkway is the rotary intersection with the scenic George Washington Memorial Parkway.
Driving
Arlington is accessible from the major roadways in the D.C. area like Interstate 95, the Capital Beltway (I-495), the George Washington Memorial Parkway and the Baltimore-Washington Parkway (I-295).
The cemetery is also a stop on the Washington Metropolitan Area Transit Authority's Metrorail system and Metrobus, each are a short walk to the gates of Arlington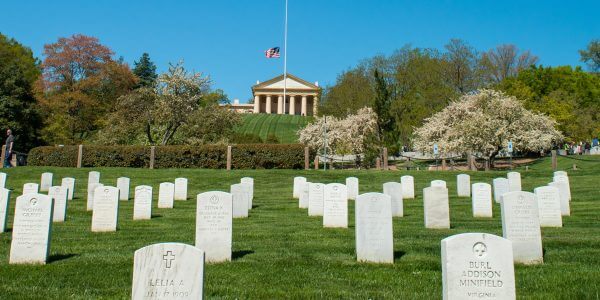 Address
Arlington National Cemetery
1 Memorial Avenue Fort Myer, VA 22211
General Information:
(866) 754-9014
Group Tours:
(202) 832-2008
Parking
Arlington National Cemetery opens to the public daily at 8:00 a.m. and closes at 5:00 p.m.
Ample paid parking is available to visitors, accessible from Memorial Avenue. The parking garage closes 1 hour after the cemetery.